New York City has always been known for its vibrant and diverse creative underground. Now with the summer upon us, there's no shortage of poetry slams, open mics, and writing workshops to satisfy the most curious writers. Here are 5 of the best upcoming events, all in Manhattan!
Bowery Slam – Poetry Reading Event
Monday, June 26th, 8:30pm
The Bowery Poetry Club will be hosting an exciting poetry reading event, hosted by Ashley August, and dubbed "The New Generation of Slam".
Anyone is welcome to show up and read their own poetry, and you'll be sure to catch some fresh new faces here.
This poetry reading event is a great place to mingle with fellow poetry lovers and share ideas and inspiration.
Signups are first come, first served, and available at 8pm.
$10 admission fee. Advance discount tickets: $7.
Find more information on their website.
Address:
Bowery Poetry Club
308 Bowery
New York City, NY 10012

Bryant Park Poetry Reading Event
Tuesday, June 27th, 7:00pm to 8:30pm
This outdoor poetry reading in the recently reopened Bryant Park reading room will feature the poets Rajiv Mohair, Kimiko Hahn, Rigoberto González, and Prageeta Sharma reading their own diverse and interesting pieces.
Admission is free, so show up early and get a good seat!
Find out more information about the event here.
Address:
Reading Room in Bryant Park
42th Street between 5th and 6th avenues
New York, NY 10018
Gotham Writers Summer Open House
Wednesday, June 28th, 7:00pm to 9:15pm
The Gotham Writers Workshop is having a Summer Open House June 28. They're offering free writing classes ranging from Fiction Writing, Screenwriting, Children's Book Writing, TV Writing, Memoir Writing, and beyond!
Anyone who enters a class is also eligible for a discount on a full course.
This workshop is perfect for anyone who wants to learn how to write, or knows they can always improve their craft.
Learn more on their website.
Address:
EC
1450 Broadway, 14th Floor
New York, NY 10018
Friday Night Poetry Slam
Friday, June 30th, 10:00pm
The Nuyorican Cafe, active since the mid 1970's, has been a hotbed of poetic creativity in Alphabet City for decades. This Poetry Slam is their most popular weekly event, and attendees can watch professional poets perform or judges themselves.
The 5 judges are randomly chosen members of the audience.
The admission is $13 at the door (a line forms outside an hour before admittance, general admittance starts at 10pm).
Learn more here.
Address:
Nuyorican Poets Cafe
236 East Third Street
New York City, NY 10009
Queer and Outside the Box
Saturday, July 1st, 7:30pm to 9:00pm
Just in time to cap off another LGBTQ pride month, is this inspiring evening of poetry, comedy and performance art Hosted by Aimee Herman, and celebrating LGBTQ writers and performers. Featuring spoken word poetry by Paul Tran and Pandora Scooter, comedy by Jes Tom, and mind-bending movement and performance art by Faux Pas le Fae and Aurora North.
Find out more about this event here.
Address:
Kraine Theatre
85 E 4th Street
New York, NY 10003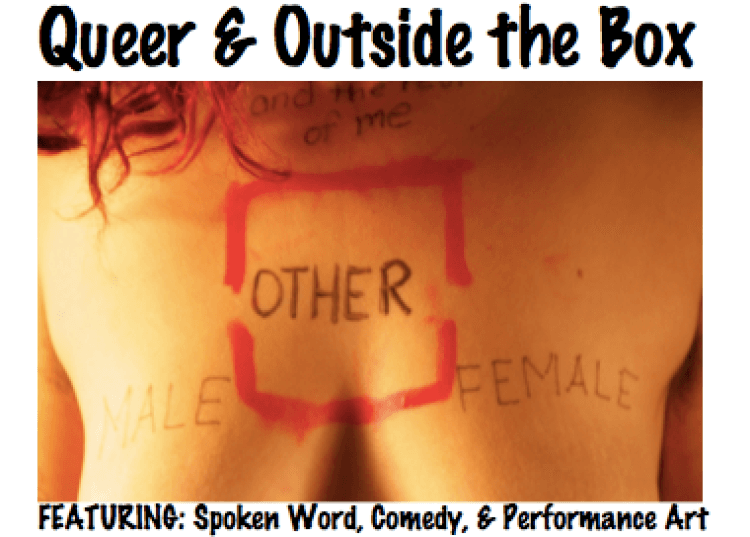 Do you know of a cool literary event we haven't listed here? Comment below!

Article Writer
at
NY Literary Magazine
Steven is a rising senior at Scarsdale High School as well as the Editor-In-Chief of the high school's magazine.

Latest posts by Steven Orlofsky (see all)