After completing a manuscript, you need to gain representation from a literary agent in order to get your book published.
This can be a challenging step for most writers.
Agent pitch slams and live pitching events are a great opportunity for writers to present their work to a selection of leading agents and editors for a chance to land a book publishing deal.
Here is a list of ten agent pitch slam fests we recommend for aspiring authors.
1. The Pitch Slam
When: September 2017
Where: Online
Entry Fees: N/A
This annual pitch slam is unique because it is done completely online and is available internationally. Not only that, submissions are given critiques and the chance to be edited before they are officially judged. Entries are selected based on marketability, agent wish lists, and craft. These selections then form teams that compete for requests. While the Pitch Slam has a new theme every year, they welcome any themes or genres, as long as the submission falls under MG, YA, or NA/Adult fiction.
The event is hosted by L.L. McKinney, Laura Heffernan, Jamie Corrigan, and Kimberly Vanderhorst. These hosts are aided by the judges: Diana Sousa, Jim O'Donnell, Angela Cappillo, Cindy Wilson, Brandi Lynch, Rebecca Waddell, Aften Brook Szymanski, Kelly deVos, J. Elizabeth Hill, Caitlyn McFarland, Jay Coles, Rowan (Erin) Hall, Carey O'Connor, Kimberly Ito, Kara Reynolds, and Elizabeth Leis Newman
Find more information on the competition here.
2. Annual April Guild Conference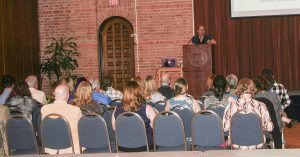 When: April each year
Where: Rice University, Houston, TX
Entry Fees: $50 (per pitch session)
Hosted by the Houston Writers Guild, this event happens in conjunction with their annual three-day conference. In order to participate in this event, registration for the conference is required. While this year's date may have already passed, it is safe to assume that a similar event, if not the same event, will occur next year.
Submission genres depend on what agents are present during next year's conference; this year's genres included erotic romance, young adult fiction, military memoir, sports, thrillers, history, sci-fi, mysteries, and much more.
This year's agents included Christine Klocek-Lim (Senior Acquisition Editor, Evernight Publishing), Doug Grad (The Doug Grad Literary Agency), Jennie Goloboy (Red Sofa Literary), and Alex Franks (Literary Agent, The Donaghy Literary Group).
Find more information on this agent pitch slam event and the Houston Writers Guild here.
3. Writer's Digest Annual Conference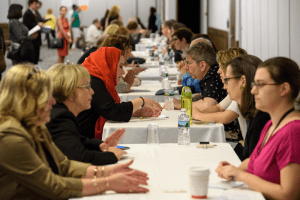 When: August 18th, 2017
Where: New York City, NY
Entry Fees: $469 (for Basic Conference)
This pitch slam is hosted during the Writer's Digest Annual Conference. The pitch sessions all occur during a one-hour time slot, with each session amounting to three minutes total.
During these sessions, authors pitch their ideas, receive feedback, and potentially gain representation. Attendance at the conference provides other bonuses as well.
This event will host over 50 agents and editors, each of which is looking for a unique list of genres. Find a complete list of who will be attending this year's conference here.
Find more information on the Writer's Digest Annual Conference here.
4. New York Pitch Conference
When: September 21st, 2017
Where: Ripley Greer studios (New York Spaces) on 520 Eighth Avenue, New York City, NY
Entry Fees: $795
The New York Pitch Conference is unique because it happens four times annually and is small in size. This pitching event is four days long and ranges from 45 to 65 total writers, keeping an intentionally intimate environment so that each writer is able to interact with professionals and each other. All of the writers are grouped by genre and pitch a total of four times. Genres that are welcome include commercial fiction, women's fiction, literary fiction, urban and adult fantasy, historical fiction, memoir, and more.
For a list of workshop leaders and agents, please visit this website.
Find more information on the New York Pitch Conference here.
5. UW-Madison's 28th Annual Writer's Institute
When: Each year in March
Where: Madison, WI
Entry Fees: $345 (for full conference)
Like many other agent pitch slams, UW-Madison's 28th Annual Writer's Institute was accompanied by workshops and lectures to help you develop your pitch, while also providing a pitch slam. You had to attend at least one day of the conference in order to participate in the pitch slam, and each pitch session was eight minutes long. At the conference, there were lectures given by Larry Brooks, Blair Braverman, and Nina Amir. While this conference may have already happened for this year, it is annual, so it is safe to expect its return in 2018 in a similar fashion.
At this agent pitch slam, Amelia Appel, Noah Ballard, Elise Erickson, Paul S. Levine, Kim McCollum, Michelle Richter, Steven Salpeter, and Dr. Ewe Stender were present, as well as editors Kira Henschel and Ben LeRoy. Each individual had specific manuscript genres they are looking for, but the slam provided for fiction, nonfiction, and screenplay.
Find more information on this agent pitch slam here.
6. Midwest Writers Workshop
When: July 20th, 2017
Where: L.A. Pittenger Student Center, Ball State University, Muncie, IN
Entry Fees: $300 (minimum)
For this agent pitch slam, early registration is key. Writers are able to register for the agents that they wish to pitch to, and each agent has only a certain number of individuals they can see during the conference. Like many other pitch slams, you must register for at least one part of the conference to be eligible to pitch. Each pitch lasts three minutes, one-on-one with the agents and editors registered for.
The agents at this workshop include Jennifer Laughran, Monica Odom, Brooks Sherman, Jessica Sinsheimer, Eric Smith, and Roseanne Wells. They are accompanied by the editors Terri Bischoff, Lauren Smulski, and Jessica Strawser.
Find more information on the Midwest Writers Workshop here.
7. The 2017 Tennessee Writing Workshop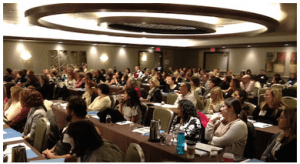 When: July 22nd, 2017
Where: Nashville, TN
Entry Fees: $169 (+ $29 per pitch)
The Tennessee Writing Workshop comes not only with a pitch session but also a full writing workshop and writers' conference. For an additional fee, authors can have their query letters and the first ten pages of their manuscripts read and edited. There are also a number of writing classes to attend.
Each pitch session is 10 to 20 minutes long. Writers are able to pitch to specific agents and editors.
There are over 13 agents and editors in attendance this year, as well as a faculty of instructors.
Find more information on the Tennessee Writing Workshop here.
8. 2018 San Francisco Writers Conference
When: February 15th, 2018
Where: San Francisco, CA
Entry Fees: $695 (+ $75 for Speed Dating)
This annual conference not only provides a pitch slam, but also multiple networking opportunities for editors, writers, and agents to meet each other. You must be registered for the conference to attend the pitch sessions, referred to as Speed Dating at the conference. Writers are given the opportunity to pitch their book to twenty agents one-on-one for three minutes. The pitches do not only happen at this session; the agents and editors are available the entire conference to network with potential clients outside of the sessions. Registration for this event is already available, so authors are able to meet their ideal agents before the event even happens.
Agents attending the 2018 San Francisco Writers Conference include Dawn Frederick, Laurie McLean, Jennifer March Soloway, Gordon Warnock, and Carlisle Webber. They are joined by editors Mary E. Knipple, Tory Hartmann, and Jennifer Ung. There are a variety of speakers who will also be in attendance, including the California Poet Laureate, Dana Gioia.
Find more information on this conference here.
9. Literary Writers Conference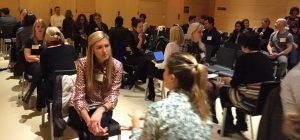 When: December 7th, 2017
Where: New York City, NY
Entry Fees: $350
This conference, like many others, includes a rich list of lectures to attend, as well as keynote speakers. The pitch slam portion of the Literary Writers Conference, called Speed Dating, is set up as a series of timed one-on-one meetings. You are guaranteed at least two meetings with agents.
The list of agents and editors has not been released for this year, but the conference is capped at 100 participants, so early registration is encouraged.
Find more information on the Literary Writers Conference here.
10. San Miguel Writers' Conference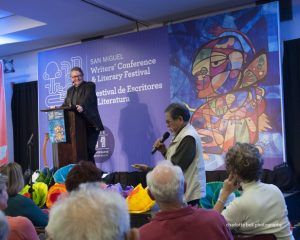 When: February 14th, 2018
Where: San Miguel de Allende, Guanajuato, Mexico
Entry Fees: $675 (+ $15 per pitch)
San Miguel Writers' Conference is the largest literary gathering in the Americas, including workshops, panels, book signings, and agent pitch sessions. At this conference, each pitch session is 15 minutes long; however, writers are limited to only two pitch sessions, so choose your agents wisely. This conference only accepts pitches on books that are finished manuscripts. Last year's keynote speakers included Billy Collins, Naomi Klein, and Mary Karr.
The list of agents and editors for 2018 has not yet been released. Last year, agents included Anna Geller, Bonnie Nadell, Katharine Sands, and Marilyn Allen.
Find more information on the San Miguel Writers' Conference here.
Writer & Poetry Reader
at
NY Literary Magazine
Hannah Messinger is studying English Literature with a minor in Art History at Florida State University.
She has always been an avid reader, writing and reading poetry since she was six years old.
She hopes to eventually earn a doctorate degree in literature or writing and will be graduating a year early in order to do so. She is the Managing Editor of FSU Her Campus, a member of Omicron Delta Kappa, and a member of Delta Zeta.
Latest posts by Hannah Messinger (see all)