We thank everyone for their love poetry submissions! Our Editors are thrilled to announce the gifted poets who have won the SPARKS Best Love Poetry contest with their outstanding heartfelt love and heartbreak poems!
Winners of the SPARKS Love Poetry Competition:
1st place winner: There is No Peak by Cyntax
2nd place winner: Passion's Answer by Megan Anderson
3rd place winner: The First Adventure by David S. Russell
The following Talented Poets have been awarded the "5 Star Writer" award to honor their creative, special, sad, and meaningful love & heartbreak poems: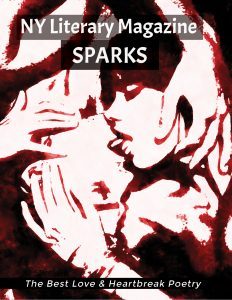 "Your Last" by Rebecca Cherrington
"In My Mind's Eye" by David B. Pincus
"Melon Eye Mask" by Dreidre Dunne
"Laura" by Chris Whitehouse
"Farewell" by Soodabeh Saeidnia
"Missing Him" by Henrike Forschler
"Walls" by Patricia Cunningham
"When You Told Me" by Hazel MacMahon
"Scars" by Beatrice Preti
"Bleed" by Emily Marie
"Sweet Chianti Lips" by Fran Marie
"The Storm Inside" by Brea Viragh
"Ashes of a Dead Love" by Joy S. J. Edwards
"Nevermore" by Lewis Stevens
"Lithium Barbie Doll" by Jason Cueto
"On Loving a Boy" by E. J. Schoenborn
"One Summer, One Lifetime" by Leslie Anne
"The Art" by Olivia Mock
"To My Young Lady" by Robert Gbolahan King
All the love poetry contest winners and finalists will be published in the NY Literary Magazine's "SPARKS" love poetry anthology, which will be available on April 3rd, 2017.
The above-mentioned winners may download their award seal and use it for their websites, social media accounts, etc.

Editor-In-Chief
at
NY Literary Magazine
Elizabeth is our Editor-in-Chief who oversees all the aspects of our online and print publications, as well as managing our team.
She has the final say over what gets published in the magazine and who wins the poetry contests.

Latest posts by Elizabeth Harding (see all)