"And I saw a little girl, her eyes tightly closed, holding to her breast the old kind of world, one that she knew in her heart could not remain, and she was holding it and pleading, never to let her go." 
In a genre-bending tale of innocence and the inevitable loss thereof, Booker Prize-winning author Kazuo Ishiguro delivers a haunting and emotional account of a dystopian society that fans of Aldous Huxley's Brave New World and Margaret Atwood's The Handmaid's Tale will devour.
Kathy H. works as a "carer," providing companionship and medical assistance to "donors" until she herself becomes one. Having recently reunited with Ruth and Tommy, friends from her mysterious childhood boarding school where children are groomed to become donors, Kathy has cause to reflect on the events of her life—the childhood years spent at Hailsham, where the children are held in a sheltered haze of secrets kept from them by their guardians who constantly remind them that they are special; teenage years spent exploring independence, sex, and adulthood at remote cottages where the atrocities of these secrets begin to emerge; and finally, their completion of the program and training to become carers, where the horrors of the circumstances behind their existence are stated in such a matter-of-fact manner that makes them all the more horrifying.
Ishiguro slowly doles out pieces of information about this dystopian world of genetic engineering over the course of the novel, always showing just enough to keep the reader intrigued without causing frustration. The result is a science-fiction novel that isn't controlled by scientific jargon or the conventions of the genre, but rather by the emotional, literary flow of Ishiguro's words, taking the reader on a journey of coming-of-age, self-discovery, and the loss of innocence that all children face. The understated horror will leave readers shocked at the end of the novel, mourning not only this loss of innocence, but the loss of our humanity.
Buy the book here.
About the Author: Kazuo Ishiguro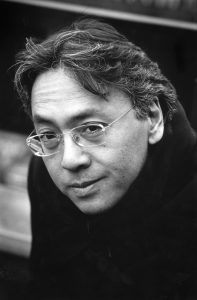 Kazuo Ishiguro is the Japanese-born British author of seven novels, as well as multiple short stories, screenplays, and lyrics. He has received numerous awards and accolades, including the Order of the British Empire for service to literature, the French decoration Chevalier de l'Ordre des Arts et des Lettres, and the Booker Prize for his novel The Remains of the Day.
He graduated with a Bachelor of Arts in English and Philosophy from the University of Kent, Canterbury, and received his Master of Arts in Creative Writing from the University of East Anglia.
Ishiguro is ranked 32nd on The Times list of "The 50 greatest British writers since 1945."
Both Never Let Me Go and The Remains of the Day have been adapted into movies.

Content Writer & Poetry Reader
at
NY Literary Magazine
Erika is a senior at Auburn University pursuing a BA in English (Public and Professional Writing), with minors in Linguistics and Creative Writing.
Reading and writing are her passions, and she's recently been hired to work as a writing consultant at Auburn's Miller Writing Center to assist students in all stages of the writing process with all forms of writing. She hopes to pursue an MFA after graduation.

Latest posts by Erika Roberts (see all)