"EXTINCTATHON, Monitored by MaddAddam. Adam named the living animals, MaddAddam names the dead ones. Do you want to play?"
An empty ChickieNobs Bucket O'Nubbins, wild wolvogs and rakunks gone feral, a genetically engineered species of humans that range in color from rose pink to green—these are some of the remnants of a society destroyed by rampant genetic engineering and bioterrorism left behind in Margaret Atwood's dystopian novel, Oryx and Crake.
Snowman, known as Jimmy before what is effectively the end of the world, might be the last human on Earth. Everyone else was wiped out by a devastating disease, the inevitable product of scientists playing God for profit. As he attempts to acquire the basic necessities of survival day-by-day, Atwood weaves a parallel narrative of the events leading up to Snowman's present predicament: his unhappy childhood with a father who works at OrganInc growing human organs in pig-like creatures called pigoons; his friendship with Crake, a brilliant but socially awkward peer who grows up to create the genetically engineered species of humans designed specifically without the features of mankind that Crake deemed detrimental to our species; and his own involvement in the pharmaceutical project that ultimately leads to the destruction of life as we know it.
The novel hurtles towards the revelation of this apocalyptic event as one cutting edge invention leads to another, with questions of ethics and morality rising as these scientific advancements become more and more outrageous. However, Atwood is careful to construct a future that, even in its extreme horror, is not so far-fetched in our own world. Some of the features she weaves into this society, from public executions streamed online to games like Extinctathon that mimic real-life catastrophes, are simply exaggerations of horrors that are happening in our own world today.
Atwood's careful attention to detail, daring invention, and energetic prose style will take readers on a journey to a horrific future that they will not soon forget.
Buy the book here.
About the Author Margaret Atwood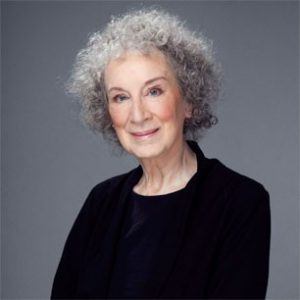 Margaret Atwood is the author of more than forty books of fiction, poetry, and critical essays. She received her undergraduate degree from Victoria College at the University of Toronto and her master's degree from Radcliffe College. She is a winner of the Arthur C. Clarke Award and Prince of Asturias Award for Literature, has been shortlisted for the Booker Prize five times, winning once, and has been a finalist for the Governor General's Award several times, winning twice.
Her MaddAddam trilogy – the Giller and Booker prize-nominated Oryx and Crake (2003), The Year of the Flood (2009), and MaddAddam (2013) – is currently being adapted for HBO.

Content Writer & Poetry Reader
at
NY Literary Magazine
Erika is a senior at Auburn University pursuing a BA in English (Public and Professional Writing), with minors in Linguistics and Creative Writing.
Reading and writing are her passions, and she's recently been hired to work as a writing consultant at Auburn's Miller Writing Center to assist students in all stages of the writing process with all forms of writing. She hopes to pursue an MFA after graduation.

Latest posts by Erika Roberts (see all)