James Joyce is known as one of the most iconic and important authors of the 20th century. However, for many, his literature can often be difficult to untangle and interpret. Struggling to understand the complicated and eloquent prose of Joyce can be a turn off to some, but others still want the chance to read and understand his work.
Are you someone who would like to delve into Joyce's literature? A great place to start will be attending a reading event at Prospect Heights Brainery in Brooklyn.
On Friday, June 16th, at 6:30 PM, a class will be lead to decode and appreciate the novel Finnegans Wake. The goal of this event is to, as a group, understand this daunting and confusing novel.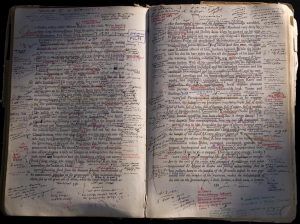 The difficulty that comes with reading this novel is derived from Joyce's extensive use of idiosyncratic language, that involves blending words to make new ones. Written in a stream of consciousness format, the novel can have run on sentences that often become overwhelming. The goal of this event at The Brooklyn Brainery is to help the audience decode and understand exactly what Joyce is writing about.
During the event, the proctors will offer an overview of Joyce's life as well as an overview of how his work gradually progressed toward Finnegans Wake. Throughout the two hours, you will be taken through each chapter of the book to break down what happens in order to garner a better understanding and appreciation of the story. While oftentimes, it may seem that to read James Joyce one must possess a Ph.D. in English Literature, the event is advertised to be accessible even to those who have never picked up a James Joyce novel in their life.
You can buy tickets here for $8.
Interestingly, the event is taking place on Bloomsday, a day dedicated to celebrating this influential author who helped to revolutionize fiction. June 16th is the day that the events in his most famous novel, Ulysses took place in the year 1904. In Dublin, events of the novel are often re-lived in his honor. Join The Brooklyn Brainery to celebrate the masterpiece of Finnegans Wake by James Joyce!

Content Writer
at
NY Literary Magazine
I'm an Elementary Literacy Specialist at The Literacy Lab/ AmeriCorps, as well as a dance coach. I enjoy reading, writing, and frequenting the gym.
I graduated from the University of North Carolina at Wilmington with my B.A. in English in two years. While in school, I was a member of two dance companies, the Feminist Student Alliance, Sigma Tau Delta, and the ECO club.

Latest posts by Katherine Rendon (see all)