Whether you're a first-time author or a seasoned professional, crowdfunding is a resource more and more writers are turning to as a way to push their next project to the finish line. If you need to know how to create a winning campaign from start to finish, then you've come to the right place!
What is Crowdfunding and How Self-Published Authors Use it
Although different crowdfunding platforms vary, at its essence crowdfunding is a process by which an author pitches their book on a campaign page using text, images, and and/or video, in order to enlist pledges ($) from backers. These backers pledge not only because they want to see the book published, but also because most pledge amounts (called tiers) come with their own reward such as a signed copy of the book or a special personalized gift.
Some authors use crowdfunding to raise money for illustrations for their children's book, to hire a professional editor or a cover designer.
Other authors raise money to self-publish a print book while some writers raise money in order to be able to complete writing their book.
Running a successful crowdfunding campaign is also a great way to prove to publishers and agents that your book has market potential. Some sites, such as Publishizer, specifically focus on bringing successful book funding campaigns to the attention of publishing houses.
Crowdfunding is used by both bestselling, famous authors as well as unknown, emerging authors. While most of the book funding campaigns which raised hundreds of thousands of dollars were run by known authors, there are also cases of unknown authors raising the amount of money they needed to fulfill their publishing dreams.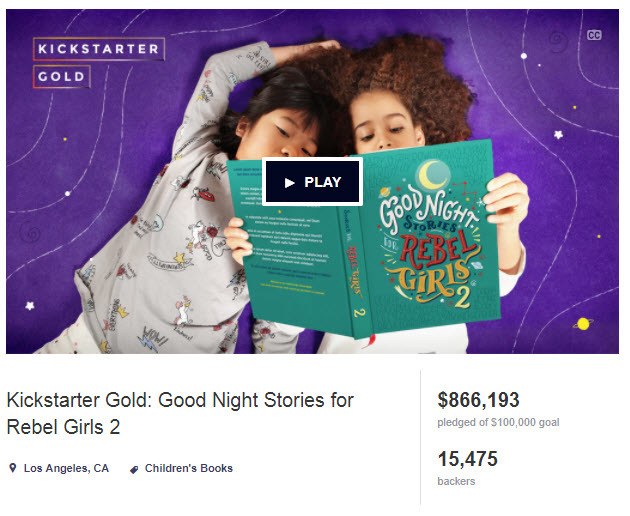 Successful Book Crowdfunding Campaigns
First, here's a look at some successful campaigns crossing a variety of genres, author experience, and funding goals. Looking at their campaign pages is a crash course in crowdfunding strategy.
What The Most Successful Crowdfunding Campaigns Have In Common
There are a few important things that all of these campaigns have in common:
Great product description. Whether their books have been bestsellers or its their first foray into self-publishing, it's clear that the authors above have put the time and thought into their campaigns, and where this is especially evident is in the project description. They summarize their book in an efficient way that gets the story across while also using key words to attract search engine traffic.
Strong visuals. It can be images sourced from the internet, graphics, or illustrations. Campaign pages are a visual medium and these campaigns take advantage of that. When it comes to the video, it's not important is not your filmmaking skills, but rather that it gets your message across clearly and emphasizes what your book offers to the reader. It's also best to be brief, around the two or three minute mark.
Value. It should go without saying that your book have value for readers; why else would you be writing it? These campaigns all excel at offering value when it comes to the pledge tiers and they're rewards. Looking at the examples above, you've seen some creative reward ideas, but it's vital to note that in every single campaign mentioned, the most popular pledge tier is not the cheapest option or the one with the biggest prize, but the one that offers a physical copy of the book.
That being said, here is an approximate breakdown of common tiers and their backer rewards for reference:
Less than $10: a handwritten postcard, a PDF of artwork or text, and sometimes just a 'Thank you!'
$10-20: a digital copy of the book, usually bundled with .mobi and .ePub versions for multiple devices.
$20-40: a trade, paperback, or hardcover edition of the book, usually in addition to digital copies.
$40-$60: a signed copy of the book, sometimes with a little extra thrown in, like a poster or audiobook.
$60-$100: copies of the book, plus something truly special, like an original illustration or the backer's name printed in an acknowledgment section of the book.
Over $100: These are where the rewards get really creative, like an author-guided tour of the Met, a Skype interview with the author, or having the author personally deliver your copy of the book by hand!
"Stretch Goals".
Another powerful technique some authors of successful book funding campaigns use is called "Stretch Goals". Backers are encouraged to share the campaign with their friends to help the author reach his or her funding goals (or even go beyond them) due to the cool rewards they will receive when the "Stretch Goals" are met.
All the backers receive the same rewards when "Stretch Goals" are met. These rewards can be anything from a poster featuring the book's protagonist to an audiobook or a beautiful signed bookmark. See some examples below.
5 Steps to Creating Your Successful Book Crowdfunding Campaign
1. Finish your book.
This one is the most crucial, and must be done before you embark on the difficult path of fundraising. Equate what you're presenting backers to what you would show an agent, editor or publisher, and only bring them your best. It sounds harsh, but no one wants to pay you to type out your novel; they want to see that you're capable of doing the heavy lifting before they buy in. This is especially true for first-time authors. No matter what your project, take it as far as you possibly can with the resources you have before unveiling it to the public.
2. Plan your campaign.
Start by figuring out exactly what you are crowdfunding for. Are you looking to self-publish, and you need to hire an editor and a cover designer? Or maybe you want to catch a traditional publisher's eye by commissioning illustrations to accompany your poetry? Do some research and decide what you want and how much it will cost; successful campaigns spell out these intentions anyway, and the numbers will illuminate your funding goals.
It's also a good idea to sketch out your commitment level. How much time can you devote to writing a pitch, making a video, spreading the word about your project, and then running the campaign for its duration? How much money will you spend? Some of the authors above spent six months just getting their campaign ready. First-time self-published author Drew Cordell successfully raised $1,054, but he spent $600 to do it.
3. Build your campaign page.
All of the top crowdfunding platforms offer a similar layout for users to make their own, with space for a body of text, photos, an option to add video, and a sidebar that tracks your funding goals and pledge promises. Aside from detailing the features you settled on in the planning stage, like what you intend to use the money for and your pledge gifts, this is where you showcase your creation for backers.
One thing every single successful campaign that we looked at had in common was a strong visual element. Illustrations, quality photos, and a sharp video should aim at making your campaign engaging for the viewer. Even if you don't think your skills in this arena measure up to a professional's, you can still find something that works for your project; for her successful Indiegogo campaign for The Parisian Sphinx, author Summer Brennan inserted images of paintings done by the subject of her biography, a French artist.
Another thing successful campaign pages do is put the focus on the work instead of the author. By all means include a short bio and your credentials, but give your book the spotlight; that's what your backers are buying. What makes it unique? Why does it have to be told? What does it offer the reader? Forge a connection between your work and your audience by telling them what it means to them. If you've yet to make a name for yourself in the literary world, it doesn't hurt to offer them a taste for free; many authors post at least an excerpt right on their campaign page.
4. Get the word out.
Leading up to your campaign, check to make sure all the details are in place. For example, Kickstarter recommends you set up your account with Amazon Payments at least a week in advance of your campaign going live.
Start promoting your campaign a month in advance. It's ok if you aren't a social media maven with a million followers; while already having an audience can help you score those big numbers, it's still possible to attract funding even if you don't. For example, all the major platforms look for captivating projects to post on their front page or media, which just hammers home the importance of honing your campaign page.
Other ways could be to guest post on other blogs to reach new readers, or ask any writer friends to post about your project. When it comes to promotion, just use what you've got and do what feels right for your book, but remember: fundraising doesn't bow to shyness.
5. Follow through.
While your campaign is on, you should devote yourself to it like it's your full-time job. Answer backer questions, post updates, blog about it, make sure it runs smoothly. Also, have some stretch goals in your back pocket so if you reach your funding goal early, you can offer something to inspire people to keep donating.
If you meet your funding goal, keep your promises. Publish your book, send out your pledge rewards on time, and celebrate. But you should also be looking for ways to make all that work pay further dividends. Working on something new already? Ask backers for their email addresses so you can build up a mailing list to let them know. Have links to your blog or social media on your campaign page and then keep the new followers you gain by being grateful and posting what they might find interesting.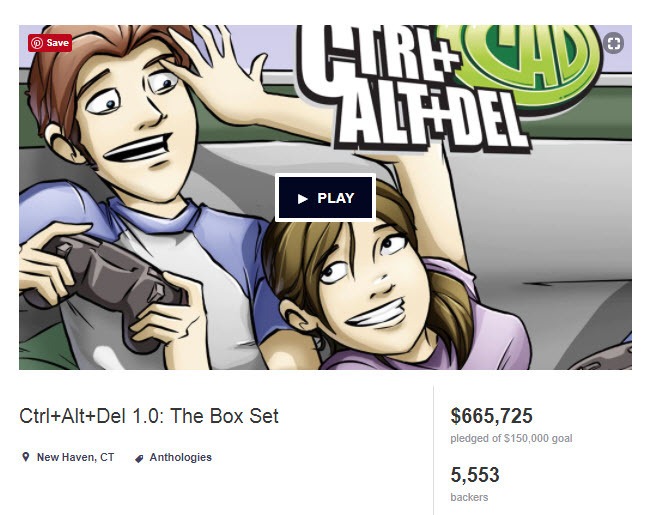 Top Crowdfunding Platforms For Authors
While there are many out there, here is a list of the most trusted sites with the most traffic, and on which other writers have found success.
Possibly the best known of the major platforms on the web, Kickstarter boasts over 13 million backers and over 100,000 successful campaigns (11,000 of those related to publishing.) They feature a diverse mix of projects sorted into categories like food, design, technology, and art. They permit an all-or-nothing campaign format only, which means that if you don't reach your funding goal, you get nothing.
Fees: Kickstarter takes 5% of what you raise, along with their 3%-5% payment processing fee, and an additional $0.20 charge per pledge.
Although it seems similar in most ways to Kickstarter, Indiegogo has a slicker feel; their most successful campaigns are in technology, film and TV, and social impact. But several book campaigns have had success here, and they offer more options for funding, with an all-or-nothing format as well as a flexible format that allows you to keep the money you make even if you don't reach 100% of your goal; for a higher fee of course.
Fees: Indiegogo takes 5% of what you raise (but 9% for the flexible funding format), plus a 3%-5% payment processing fee.
Patreon, founded in 2013
Consider Patreon if what you're good at is creating great content in a consistent manner. Seanan McGuire writes short fiction in the sci-fi genre, and her readers love them so much she earns in the thousands for each one. Patrons make donations on a monthly or per-creation basis so productivity is top priority if you go down this road, but if you do you'll be in the company of indie publishing house McSweeney's and musician-turned-bestselling-author Amanda Palmer.
Fees: Patreon 5% of what you raise, plus your patrons are charged for new pledges and the 5% payment processing fee.
GoFundMe, founded in 2010
GoFundMe reports a staggering 40 million donors and $4 billion raised, but the site favors campaigns with a social outreach bent and it has far fewer successful book campaigns in its history. Still, being one of the biggest crowdfunding platforms, it's worth taking a look at, especially if you think your work could have a social impact.
Fees: GoFundMe 5% of money raised, 2.9% payment processing fee + $0.30 per donation.
Specifically geared towards garnering 1,000 or more pre-sales for new books, Publishizer is the newest kid on the crowdfunding block and has a lot to offer writers. It draws a targeted audience of backers who are interested in investing in literature, and it aims to get the eyes of publishing houses on your campaign in order to get you a book deal. The kicker; a 30% cut of all the money you raise. They already boast a few major successes; check out their case studies page for inspiration!
Fees: Publishizer takes 30% of the money you raise.
Unbound, founded in 2010
Unbound is a little different from the platforms above, in that it is a publishing house that uses crowdfunding to publish books under its own imprint. Using this method they've published 285 to date, with help from 135,733 backers. Authors pitch their project, and Unbound only accepts those that they think have a chance at successfully reaching their goal. Once funded, it works like a traditional publisher, retaining the rights to publish and distribute your book for a set amount of time.
Fees: Because Unbound works like a traditional publisher, everything you raise goes to the production, marketing, and distribution of your book; so none of the money actually goes into your pocket until your book has been published and is making sales.
Final Word on Book Crowd Funding…
Crowdfunding platforms and successful book funding campaign methods aside, the most important aspect of your fundraising effort is that you are passionate about your project. If you believe your book deserves to be out there and are willing to work hard to achieve your self-publishing success, your enthusiasm will infect others and attract the support you need to secure funding.
We wish you all the best success!
Please let us know your thoughts on this article, or if you'd like to share tips, ideas and questions on book crowdfunding – post your comment in the form just below! Thanks!

Magazine Writer
at
NY Literary Magazine
Jen Batler graduated from the University of Toronto with an Honours Bachelor of Arts with majors in history and Russian language and literature.
She has been published by the North American Dostoevsky Society, and in the Hart House Review 2016.

Latest posts by Jen Batler (see all)