"The dream was haunting me: standing behind me, present and yet invisible, like the back of my head, simultaneously there and not there."
The nameless narrator in Neil Gaiman's hauntingly nostalgic novel revisits his childhood home in the English countryside. By doing so, he evokes memories from his youth that had been buried over decades. Forty years earlier, when the narrator was merely seven-years-old, a man committed suicide in a stolen car at his farm. A primeval darkness was unleashed from that moment.
Amongst all the psychological darkness that occurs, the narrator meets Lettie Hempstock and her worldly mother and grandmother. The trio, mainly Lettie, guide the narrator and help him defeat a few different malign forces, all with their own complexity. The Hempstocks are much older than their apparent ages, giving them unparalleled wisdom that they use to show the narrator that he can undo the mistakes he's made due to his innocence and well-developed sense of right and wrong.
This novel is conceptually unlike anything that has been written by anyone other than Gaiman. In fact, stories like this are typical of Gaiman's writing, inclusive of dry wit, a strong narrative voice, blunt descriptions, and leaps of rich imagination that you don't have to suspend your disbelief for. The lessons the Hempstocks help the narrator learn are poignant and sensible. Take, for example, Lettie's ability to see the pond on her farm as an ocean. This vision alone raises an important lesson for readers: don't think in limitations, think in possibilities.
Most of the mystical elements that occurred during the narrator's youth are incomprehensible to this naïve yet bookish seven-year-old, while it's easier for him to return to them as an adult. The book itself not only had the ability to awaken the narrator's inner childhood, but also that of the readers', making the adult/child dualism a central theme to the novel.
"Adults follow paths. Children explore. Adults are content to walk the same way, hundreds of times, or thousands; perhaps it never occurs to adults to step off the paths, to creep beneath rhododendrons, and find the spaces between fences."
Buy Gaiman's novel here.
About the Author: Neil Gaiman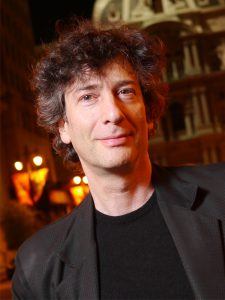 Neil Richard Gaiman is an English author whose works have won him numerous awards, including the Hugo awards, and the Newberry and Carnegie medals. He writes short fiction, novels, comic books, graphic novels, and scripts.
He is the New York Times bestselling author of the novels Neverwhere (1995), Stardust (1999), the Hugo and Nebula Award-winning American Gods (2001), Anansi Boys (2005). American Gods has recently been released in an expanded tenth anniversary edition, with a TV adaption.
Other notable works include Coraline (2002), The Ocean at the End of the Lane (2013), The Graveyard Book (2008) and his short story collections Smoke and Mirrors (1998) and Fragile Things (2006).

Writer
at
NY Literary Magazine
Alyssa is set to graduate from Fairfield University in 2019 with a major in English and a minor in Digital Journalism.
Currently, she's the Marketing Director and Web Editor for her University's student-run literary magazine, 'The Inkwell.' She's also a contributing writer for the magazine and has numerous poems published in their issues.

Latest posts by Alyssa Vigorito (see all)